Even as confusion continues to engulf burial arrangements of the late Kibra MP Ken Okoth following a pending court's ruling, residents of Kabondo Kasipul in Homa Bay County have vowed to stay put and resist any attempts of flying the body back to Nairobi for cremation.
Through their social media sites, the residents led by blogger Oduor Mac Oduor faulted the cremation act saying it was against the Luo culture which respects the death even more than the living.
Oduor who was supported by members from his Luo community promised to stand against all odds and guard the body once it lands at the lakeside region by dwarfing any attempts to fly it back to Nairobi for cremation.
"Removing Ken Okoth from Homabay to go cremate him in Nairobi will require 9 GSU lorries, 5 flying squad choppers, 3 water tank canisters, 6 buses of catapults and countless stones. It won't be that easy we Luos respect the dead than living people. Now you know" posted Oduor
His post quickly attracted reactions especially from members of his community who supported him saying the idea of Cremating the death was against their traditions and should not be given any space. Here are the comments;
Benjamin Mauko Even those weapons mentioned are so inferior to our lake region brothers. Talk of B-52 Air bombers and Apoche long bow, scud missile launcher plus plus. Already they have no creamation of Ken's body order. Those pipo are sad news when they want what they want. Once more watch this space omera. Eisshhhh !!
Oduor Mac Oduor Benjamin Mauko am coming for funeral bro with Gormahia mathare north branch🤣🤣🤣
Stacy Allest Wilberforce Tell them.. we need to mourn, mourn, and mooooooooouuuuuurrrrng Osiepa!!!
Cremation Ni wao !!!
Section of Luo Elders Oppose Cremation of Ken Okoth
– Chairman Nyandiko Ongadi argues that the move is against Luo traditions. Reports indicate that the late MP had chosen cremation as his final destination.
2:51 PM – Jul 31, 2019Twitter Ads info and privacySee Wish Fm's other Tweets
Oduor Mac Oduor Benjamin Mauko tuko ngangari we must dance disco matanga
Mutoro Lubisia I support you. Mulamwa mzungu should stop provoking mashemeji.
Laura Walubengo✔@lwalubengo · Jul 31, 2019
MEMORIAL service for Ken Okoth will be held tomorrow at Moi Girls school, Kibra ahead of Saturday burial in Homa Bay.

No cremation then…eh?
Remember the story of Joshua Okuthe and how the family was excommunicated after cremation? Any prominent Luo who is doing this will always face serious problems from the community.62:56 PM – Jul 31, 2019Twitter Ads info and privacySee Robert Alai's other Tweets
Tonny Walela It's alleged that, in homabay you hire mourners… Meaning there will be the likes of "burning wailers "🤣🤣
Rudolph Masika Muchoe Cremation is evil; it's the beginning of Fire of Hell!
Antony Misiko Mzungu ajuwe aliolewa kwa watu na culture Matanga Disco 2wks
Catherine Ndegwa Am waiting for that drama. I love the way lous do their things with commitment. Mzungu (bibi) atashtuka
K'Oduor MC Oduor Mac Oduor once again MUCH thanks baba, i appreciate and the process is undergoing
"It Is Against Luo Tradition!" Late Ken Okoth's Paternal Family Oppose Cremation Plans http://bit.ly/31ayN1p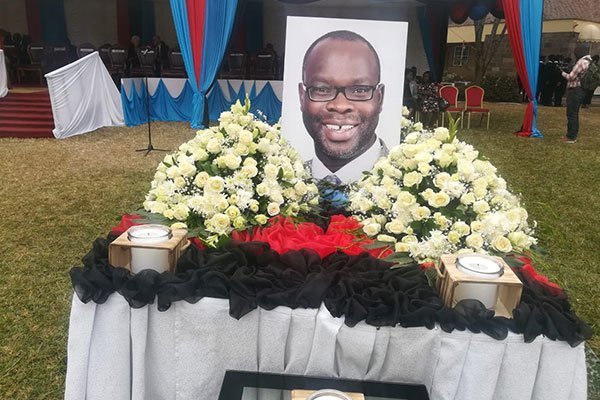 698:23 PM – Jul 31, 2019Twitter Ads info and privacy18 people are talking about this